All-On-4 – Frederick, MD
Restore Your Smile with Just Four Implants
You might have heard that dental implants are an excellent way of replacing a lost tooth. But if you're missing all teeth in Frederick? Many patients who have suffered extensive tooth loss rebuild their smiles with a set of dentures, but what if we told you there was a healthier and more secure way to replace your missing teeth? At My Frederick Dentist, we offer a procedure called All-on-4, which can replace an entire arch of teeth using just four dental implants. Contact us today to learn more.
How Do All-On-4 Implants Work?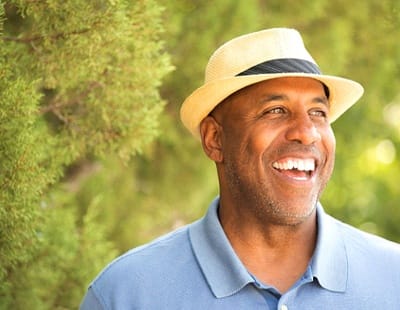 A dental implant is a small titanium post that serves as the root of a missing tooth. Ordinarily, a single implant is placed in the jawbone and topped with a lifelike dental crown. With All-on-4, however, four implants can be used to provide enough support for a full denture. This is done by angling the two posterior implants (the ones toward the back of the mouth) at 45 degrees. Doing so greatly reduces the need for bone grafting to ensure there's enough bone height to accommodate the implants.
Am I a Candidate for All-on-4 Implants?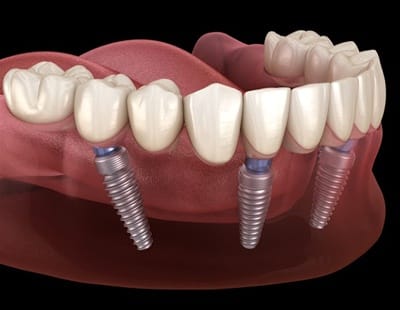 All-on-4 can be used for patients who have lost all of their teeth in their top and/or bottom jaw. Because the two posterior implants are placed at an angle, even patients who have suffered from bone deterioration as a result of their tooth loss may still be able to restore their smile with All-on-4.
Of course, adequate oral health is essential in order to be a candidate for dental implants in Frederick. Bad habits like smoking and health issues like gum disease will need to be addressed prior to placing implants.
What Are the Benefits of All-on-4 Implants?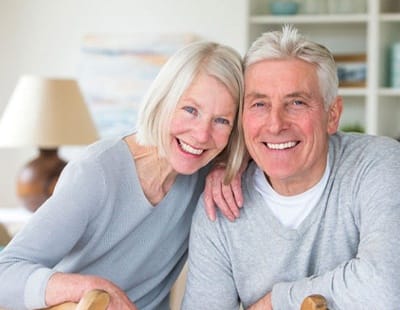 Some of the benefits of combining dentures with dental implants include:
Unlike traditional dentures, prosthetic teeth retained by All-on-4 don't need to be removed to be cleaned, nor do they require messy denture adhesive. Instead, you just need to brush them like you would brush natural teeth.
Because implants integrate with your jawbone, they will feel as natural as the pearly whites you were born with.
All-on-4 offers increased chewing power over conventional dentures alone, allowing you to enjoy a wider variety of healthy foods.
The implants prevent the jawbone loss that often accompanies tooth loss. They will keep your jawbone full and support your facial muscles, keeping you looking young.
All-on-4 vs. Traditional Dental Implants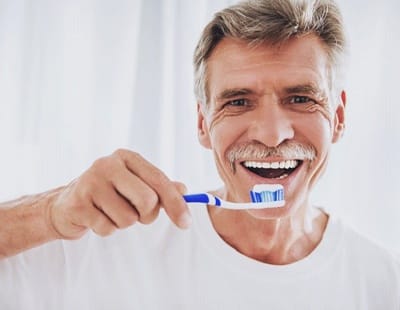 With traditional implant dentures, it can anywhere from six to eight implants to provide enough support for a full denture. None of these implants are inserted at a 45-degree angle, so a bone graft is often required, adding months of waiting until you can receive your brand-new smile. Furthermore, in some cases, All-on-4 dentures can be placed on the same day your implants are inserted, while you usually have to wait several months for traditional implants to integrate with your jawbone before the restoration can be placed. Because of this, All-on-4 is typically faster and more cost-effective than traditional implant dentures.
Of course, the only way to determine whether All-on-4 is right for you is to schedule an appointment with one of our dentists. Click here to learn more about booking a FREE dental implant consultation with us!