Invisalign – Frederick, MD
Orthodontic Treatment Is Easier Than You Think
Very few people are born with a naturally straight smile and aligned bite. But thanks to modern dentistry, there are alternatives to metal braces such as Invisalign that correct these issues. At My Frederick Dentist, we're thrilled to offer you a way of getting fantastic orthodontic results without the hassle or embarrassment of brackets and wires. If you'd like to know more about how comfortable and discreet orthodontic treatment can be, contact us today!
Why Choose My Frederick Dentist for Invisalign?
#1 – Highly-Trained, Experienced Dentists and Staff
#2 – We Work With Patients of All Ages
#3 – Financing Options For Uninsured Patients
How Does Invisalign Work?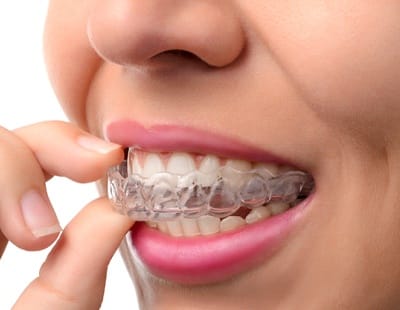 The first step is a consultation with one of our experienced dentists who will create the best treatment plan for your needs to make sure you get the results you want. While Invisalign is a wonderful option for most people and treats a variety of mild to moderate issues, severe problems may respond better to traditional braces.
Once we've made sure that Invisalign is right for you, we'll start by taking images and digital impressions. With this information, we can give you an estimate of your treatment time and show you a virtual image of your results before you begin.
From there, here's how the process works:
We'll send your images and impressions to the Invisalign lab, where your clear aligner trays will be custom-made. This usually takes about 3 weeks.
You'll return to pick up your first set of trays and we'll put small, tooth-colored "attachments" on your teeth. This anchors them into place so they can apply pressure in the right places.
When you return, we'll have you try in your first pair of aligners and go over instructions for how to wear and maintain them. Then you'll wear them at least 22 hours per day and move to your next set about every 2 weeks until you get your final result.
Throughout the process, you'll come in about every 4-6 weeks for a progress visit and to pick up new trays.
What are the Benefits of Invisalign?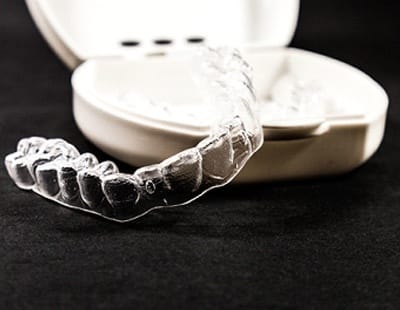 As a dentist in Frederick, we know how much our patients love having an invisible way to straighten their teeth. But you can expect these additional benefits as well:
Treatment time – In many cases, Invisalign is faster than traditional orthodontic treatment. The average treatment time is just 9-18 months, as opposed to 12-24 months for metal braces.
Convenience – To get your results on time, it's crucial to wear your trays at least 22 hours per day. However, you'll have the convenience of taking them out for special events like job interviews.
Comfort – With smooth plastic aligners, you won't have to worry about metal brackets irritating your lips and cheeks.
Better oral hygiene – Cleaning around metal braces is difficult and can increase the risk of cavities and gum problems. It's much easier to maintain good oral hygiene in Invisalign because you simply remove your trays before brushing and flossing.
Understanding the Cost of Invisalign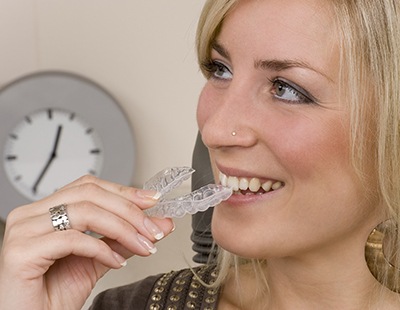 The cost of Invisalign in Frederick may have you wondering how you'll pay for such treatment, but fortunately, just because someone you know paid one price doesn't mean you'll pay the same. How so? At My Frederick Dentist, we consider a variety of factors that contribute to the overall cost of your treatment. If you're contemplating Invisalign to straighten your smile, contact us to find out how much you can expect to pay for your clear aligners.
Factors that Affect the Cost of Invisalign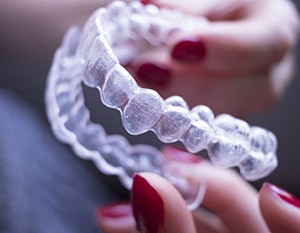 Everyone has a unique case and will need a different number of aligner trays to correct their smile. During a consultation, we'll discuss your treatment time and give you a more specific idea of your individual cost. With that said, the most notable factors include:
The number of clear aligners you will need to achieve results (i.e. the longer the treatment, the more aligners you'll need)
The length of your proposed treatment
What type of orthodontic problem you have and its severity
Whether you will require a top or bottom aligner only, or both
Your retainer once you are finished with Invisalign treatment
Invisalign vs. Smile Direct Club™: Which Should You Pay?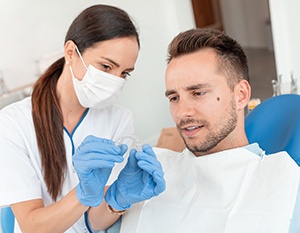 When you compare the two, Smile Direct Club tends to be the more affordable option. For example, an average treatment for them falls under $2,000 in many cases, whereas Invisalign can significantly vary. On average, Invisalign treatment can cost as little as $3,000 and as much as $8,000. However, the difference in price is mainly because Invisalign has been around for much longer and connects you with an actual orthodontist to complete your care. Smile Direct Club expects patients to essentially undergo treatment entirely on their own. This includes making your own impressions, which are used to create the aligners. Plenty of issues can occur, which inevitably lead to serious long-term issues for your smile and oral health.
Additionally, fixing these problems means meeting with a professional anyway. With Invisalign, you'll always be connected with our team of dentists to complete your treatment. When you want peace of mind about your smile realignment, Invisalign is generally the way to go.
Does Dental Insurance Cover Invisalign?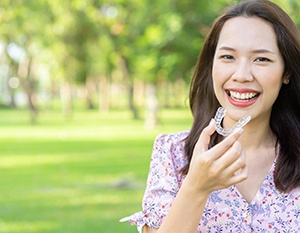 The level of coverage you receive from dental insurance plans for Invisalign can vary significantly. More often than not, Invisalign tends to be left out, but this is not always the case. This is why we recommend checking with your insurance company ahead of time directly. Our team is happy to help you go over your benefits to ensure you get the best deal possible. If you have an FSA, you can also use funds from that to help pay for treatment.
Options for Making Invisalign Affordable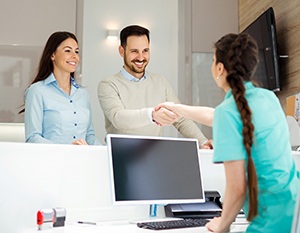 If you do not have dental insurance or your plan does not offer coverage for Invisalign, there are other options available to you that can make treatment more affordable. For example, CareCredit is a third-party financing solution that offers monthly payment plans with little to zero interest attached. By opting for regular installments to cover treatment costs, rather than paying in one lump sum, you can make Invisalign fit into just about any budget. My Frederick Dentist also provides an exclusive offer where patients can save $500 on their Invisalign treatment.
Invisalign FAQs – Frederick, MD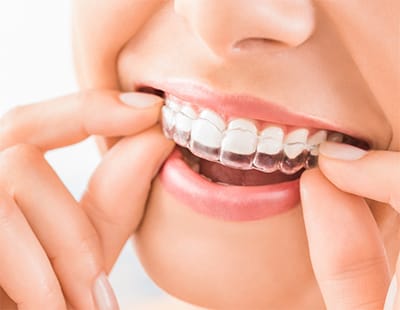 There's no question that Invisalign is an outstanding alternative to traditional braces. But we know that it's common to have a few questions about it before making a decision. To help you have all the information you need, we've put together answers to the Invisalign FAQs we hear the most below. But don't hesitate to contact us if there's anything else you'd like to know. We've helped hundreds of people invisibly straighten their smile, and we'd love to help you too!
Will I Be Able To Speak Clearly With My Invisalign Trays In?
Your trays will feel foreign in your mouth in the beginning, so the first several days will be an adjustment period. Many people have no trouble at all speaking clearly from the start, while others will experience a mild, temporary lisp. However, it typically only takes a few days for your lips and tongue to "re-learn" how to enunciate clearly.
Can I Be Confident That Invisalign Will Work?
Yes! In the last 20 years since Invisalign was developed, more than 6 million adults and teens have successfully used it to straighten their smiles. In a large survey of patients, it was given a 96% satisfaction rating, with 9 out of 10 people saying they would recommend it to their friends and family. In addition, we offer a free Invisalign consultation, so you can find out if it's right for you risk-free.
What Happens If I Lose My Invisalign Trays?
Each set of trays is worn for around 2 weeks. When we review your instructions at the start of your treatment, we'll recommend keeping your trays as "insurance" if you lose your current set. This way, your most recent aligners can act as temporary retainers to keep your teeth in place.
If you lose your trays, call us as soon as possible and start wearing your previous trays immediately. We'll contact the Invisalign lab and have them make duplicate trays, which usually takes 2-3 weeks. Although your treatment time will be extended, your teeth will be prevented from moving back to their initial positions.
What If I've Already Had Braces?
If you had braces at one time but didn't wear your retainers, chances are that your teeth have shifted back to where they were, at least partially. Invisalign is usually perfect in these cases because the initial orthodontic treatment took care of the major alignment issues. And since most people only need minor adjustments, they can usually complete Invisalign in just 6-12 months.
Will I Have To Wear Retainers After Invisalign?
Yes. Since the teeth always have a "memory" of where they were, retainers are necessary after any type of orthodontic treatment. With Invisalign, your retainers will look and feel much like the clear aligner trays you used during treatment. Initially, you'll wear them at least 20-22 hours per day, but later on you'll only need to wear them at night.