Teeth Whitening – Frederick, MD
A Beautiful Smile That Shines Bright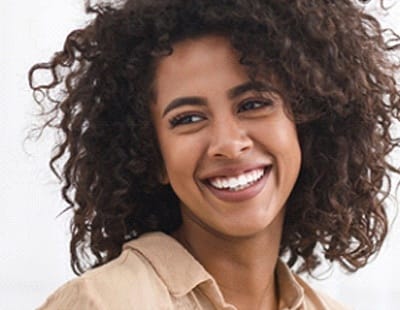 When it's time to smile for photos, do you find yourself shying away from the camera because of stained or discolored teeth? If so, now is the time to make a change. When you visit us at My Frederick Dentist, one of our highly skilled dentists will perform a brief examination and then create the perfect plan to help you enjoy a bright and beautiful smile. To experience the confidence boost that comes along with having a revamped appearance, contact us today to request an initial visit!
Why Choose My Frederick Dentist for Teeth Whitening?
Get anything from a minor touch-up to a dramatic makeover
Treatments designed to both look great & stand the test of time
Kind, friendly, & highly skilled team
How Does In-Office Teeth Whitening Work?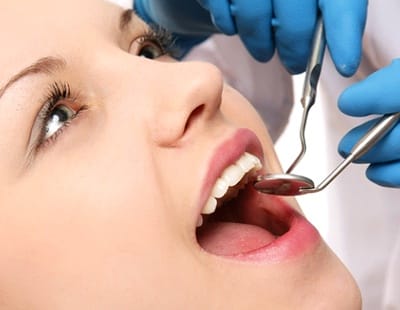 Professional in-office teeth whitening involves the use of high-powered bleaches that penetrate into the enamel, and that cause a chemical reaction that lifts stubborn stains that can't be addressed by merely brushing your teeth. To qualify for the procedure, you'll need to have good oral health. Therefore, your cosmetic dentist will thoroughly assess the condition of your mouth, teeth and gums. After you've been examined and given clearance to proceed, your cosmetic dentist will take the following steps to whiten your teeth:
Secure the gums, lips and other soft tissue
Apply numbing medication for patients who are prone to tooth sensitivity
Apply the whitening agents to the teeth in 15-minute increments
After each application, use a special light to activate the whitening agents
To ensure the noticeable results you're looking for, we'll complete the process up to three times so you'll leave our office looking and feeling like a brand-new person!
In-Office Whitening Compared to Store-Bought Products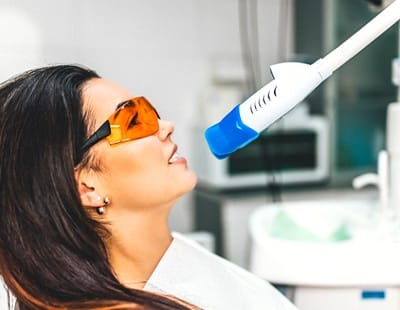 Now that teeth whitening has become so popular, retailers have begun to offer over-the-counter teeth whitening kits that can be used at home. While they provide the convenience of saving customers a trip to the dentist, the results they offer can't come close to those provided by professional in-office whitening.
Here are some of the advantages of visiting your cosmetic dentist in Frederick instead of choosing a store-bought option:
Quality – We only use the highest quality whitening agents to lift stains, which means your teeth can be brightened by up to eight shades.
Safety – Store-bought whiteners use generic trays. Thus, there is a chance that the whitening agents could leak and irritate your gums. We'll prevent that by completely customizing your treatment process to fit your specific needs.
Results That Last – In addition to seeing better results with in-office whitening, you'll also be able to enjoy them longer.
Caring for Your New Smile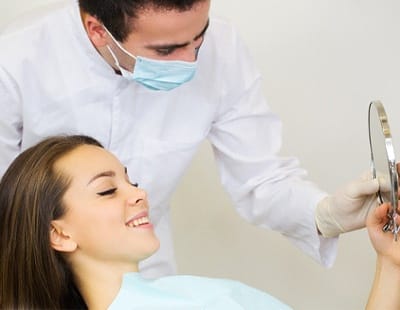 You have an important role to play in maintaining your gorgeous new smile. It starts with practicing excellent oral hygiene, which should include brushing and flossing your teeth at least two times a day. Additionally, you should avoid eating sticky and chewy foods that are more likely to cling to your ivories. It's also best to abstain from consuming foods or beverages that are darkly pigmented like ketchup, soy sauce, tea, coffee and wine.
So now that you're better informed about what to expect from teeth whitening in Frederick, the next step is to contact our office to schedule your first visit. Soon, you'll be beaming from ear to ear!