Root Canal Therapy – Frederick, MD
Nothing to Fear Anymore
If you come to see us with a hurting tooth and we recommend root canal therapy, know that this isn't bad news! Root canal therapy is a safe procedure that is able to relieve the most severe dental pain while also saving extremely damaged teeth from extraction. Thanks to our dental team's use of the latest technology and techniques, we can guarantee you'll be thankful you got a root canal afterward!
Why Choose My Frederick Dentist for Root Canal Therapy?
Same-day appointments available for patients in pain
Patient comfort is priority #1
Kind, friendly, & highly-skilled team
Why You Might Need a Root Canal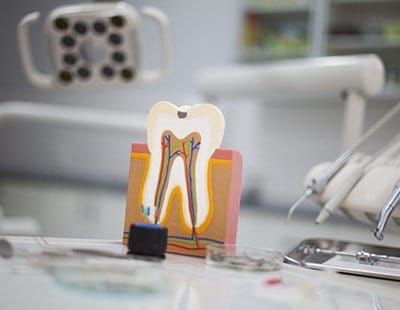 At the center of every tooth is a small amount of soft tissue called the dental pulp that contains the tooth's nerve. If bacteria reach and infect the pulp (whether due to a cavity or crack in the enamel), the result is usually a very bad toothache. Root canal therapy enables our team to remove this pulp, clean and disinfect the inside of the tooth, and stop a patient's pain right away. Fortunately, despite what you might have seen in movies and on TV, this is now a virtually painless procedure that can help a compromised tooth look and function like normal for many years to come.