Dental Crowns – Frederick, MD
Protect and Restore Your Smile
Our dedicated and experienced team at My Frederick Dentist is committed to preventing or treating oral health issues in their earliest stages. However, in some cases, advanced tooth decay or damage can occur. Fortunately, there are a range of restorative dentistry treatments that can save your natural tooth structure and avoid extraction.
Why Choose My Frederick Dentist for Dental Crowns?
Personalized, Patient-Centered Care
Team Led by 3 Expert Dentists
Ready to Welcome Patients of All Ages
What is a Dental Crown?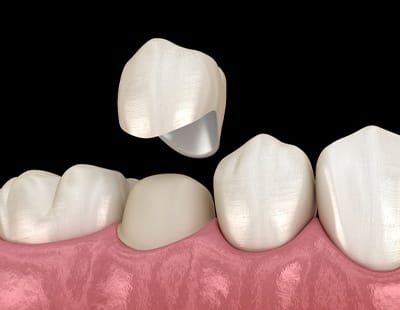 Dental crowns are fixed prosthetic restorations that cover or "cap" damaged, misshapen or infected teeth to protect them from further damage and restore their original shape, size and function. Custom-designed to fit perfectly over the visible part of a tooth above the gumline, a crown essentially becomes a part of the tooth and allows a patient return to eating and speaking without worry. Dental crowns can also be utilized to improve the appearance, shape or alignment of an individual tooth.
Dental crowns can made fashioned from a variety of durable, resilient materials. Porcelain-based ceramic crowns are popular for their ability to blend in with the color of natural teeth. Crowns crafted from gold alloys and base metal alloys provide resilient alternatives.
The process of getting a dental crown placed typically requires several trips to a dentist in Frederick. During the first visit, the dentist reshapes and contours the tooth to prepare it for a crown. Once the crown is custom-made in a dental restoration lab, it is permanently affixed to the tooth during a second appointment.
When is a Dental Crown Needed?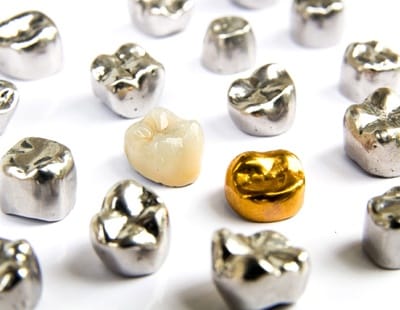 When a tooth lacks the stability to support its normal functions, dental crowns can come to the rescue.
All the following are circumstances in which a dental crown may be necessary:
To protect a tooth weakened by decay from breaking
To hold together a cracked tooth
To restore a tooth that has been worn down
To cover a discolored or misshapen tooth
To hold a dental bridge in place
The Benefits of a Dental Crown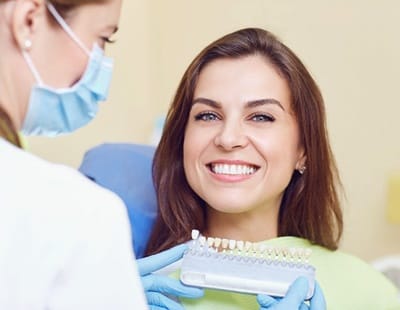 The many benefits of dental crowns in Frederick include:
Protect Teeth: Crowns protect teeth from tooth decay and keep cracked or fractured teeth from falling apart. They can also strengthen teeth that have undergone root canal therapy.
Improve Aesthetics – In addition to protecting damaged or decayed teeth, dental crowns can also be used to cover up a discolored or misshapen tooth, improving the appearance of your smile and boosting your self-confidence.
Chewing Support – Loss of chewing support is a major problem caused by a broken tooth. Dental crowns are made from durable materials that can withstand chewing forces and restore your ability to eat all the foods that you love.
Long-lasting: With proper care, dental crowns can last up to 15 years – or even longer!
If you want to restore a damaged or decaying tooth, do not hesitate to pick up the phone and call our expert team at My Frederick Dentist. With three dedicated dentists on staff, we are equipped to meet all your restorative dentistry needs.
Understanding the Cost of Dental Crowns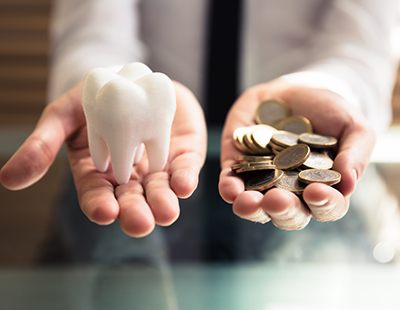 The cost of dental crowns depends on a few factors. During your consultation, we will be able to share specific numbers with you. You may end up paying several hundred dollars or more out of pocket. With the help of insurance, financing, and/or our in-house membership club, most patients are able to afford their crown without too much trouble.
Factors that Affect the Cost of Dental Crowns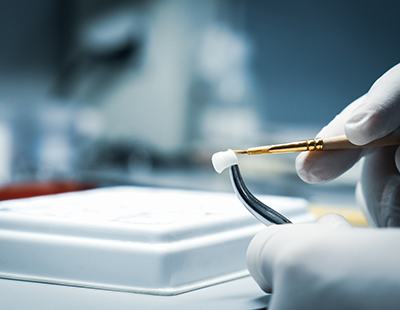 There are a number of factors that might affect the cost of your dental crown, including:
Preparatory care. A tooth may need a root canal therapy or other procedures before it can adequately support a crown.
The material used to make the crown. Crowns can be constructed out of various materials, including metals, porcelain fused to metal (PFM), and 100% porcelain. We favor porcelain crowns because of their natural appearance and outstanding durability.
How the crown is made. We partner with trustworthy dental laboratories to create the crowns we provide for patients. Laboratory fees will naturally have an effect on your total financial obligation.
Keep in mind that cheaper crowns are not always better crowns. Quality is important, so you should be wary of any "bargains" that seem too good to be true. Do your research so you can be confident that you are receiving a well-made product.
Does Dental Insurance Cover Dental Crowns?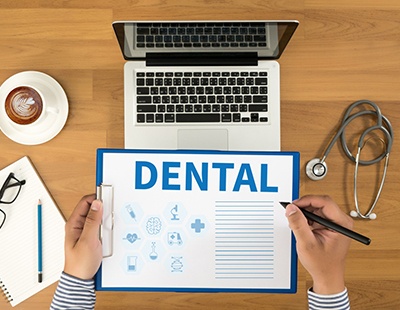 It is quite common for dental insurance to cover dental crowns. They are usually classified as a major procedure, so around 50% of their cost may be covered. Our team welcomes insurance, and we are in-network with a number of major plans. You can rely on us to help you navigate your benefits and use them in the most advantageous way possible. We want to do all we can to help you keep your out-of-pocket costs to a minimum.
Other Options for Making Dental Crowns Affordable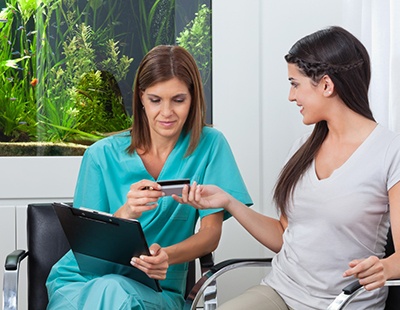 In addition to insurance, there are a couple of provisions that might make it easier for you to afford your dental crown:
Most patients are eligible for no-interest or low-interest financing through CareCredit. The application process is fast, and you may be able to choose a monthly payment amount that fits your budget.
In-house membership plan. Our Membership Club is ideal for patients without insurance. In exchange for a reasonable fee, you can enjoy all preventive care plus 15% off other services, including dental crowns.
Are you eager to learn more about crowns and their cost? Get in touch with us today to book a consultation!
Dental Crown FAQs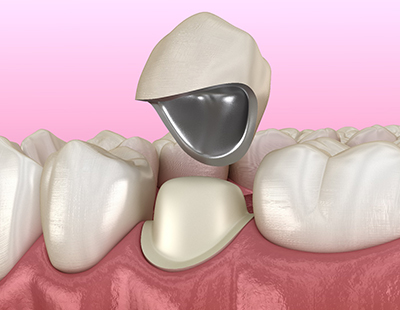 Dental crowns are one of the most variable and versatile dental treatments, which means that they're incredibly useful but also that patients also have a lot to learn if they want to fully understand the treatment that they're getting.
If you really want to learn more about dental crowns we'll be happy to tell you anything you want to know at an in-person consultation. And if you want to read up a little bit before then, here are answers to some common questions about them.
Are Dental Crowns Permanent?
While dental crowns don't last forever, they are a long-term solution for dealing with severe damage to the tooth and aren't designed to be removed. Depending on where the crown is in the mouth and how well you take care of it, you can expect it to last anywhere from 5 to 15 years.
It's worth noting that the process of removing enamel for your crown is irreversible. Enamel doesn't grow back, so once any given dental crown fails, you'll need to replace it in order to continue protecting your tooth.
How Do You Know When a Dental Crown Needs to Be Replaced?
There are a few key signs of failure you need to watch out for to know when your dental crown should be replaced. Some of these indicators are visual, like chips and cracks in your dental crown. Some porcelain fused to metal crowns also seem like they have a black line around them as they near the end of their lifecycle.
The biggest thing to watch out for, however, is pain. If your dental crown suddenly starts to feel uncomfortable, that's a sign that it isn't protecting you as well as it needs to. If you think that your dental crown might not be stable anymore, we can perform an x-ray that will allow us to determine that for sure.
Do Dental Crowns Feel Natural?
Your dental crowns will be meticulously crafted by experts to perfectly blend into your smile. They're made of the highest-quality materials and should be able to stand up easily to the daily stress of eating. As a result, your dental crown should feel comfortable and natural.
At first, you may need to get used to the feeling of having a healthy tooth in that spot. After a few weeks, however, you're unlikely to even notice that it's there.
What Happens If You Wait Too Long to Get a Dental Crown?
We make it a point not to recommend treatment to you that we don't think that you need. If you put off getting the restoration, you're likely to expose the damaged tooth to stress and more bacteria, making whatever problems have been afflicting you much worse than they were before.
If things progress, you might need a root canal or an extraction instead of just a dental crown. For that reason, it's important to get a dental crown as soon as we tell you that you need one.