Meet the Team
Our dental team is ready to take all of the stress out of your family's dental care. From scheduling to settling into the chair to figuring out payment, they'll be right by your side to meet your needs and answer any questions. They are a big part of the fun and relaxed atmosphere that our patients love, and we know you'll learn to appreciate them starting at your very first visit. To start getting to know our fantastic team before you meet them in person, you can read all about them below.
Nadia, Office Manager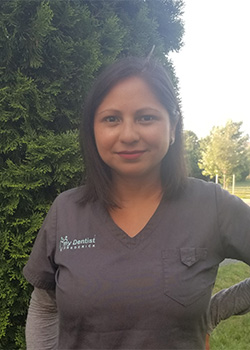 Nadia joined our team in 2020, bringing over a full decade of experience with her. She earned her B.S. in Healthcare Administration from Columbia Southern University and became an Expanded Functions Dental Assistant after studying at Kaplan University. She loves helping our patients have a phenomenal experience and watching the individual development of each member of her team!
Outside the office, you can find Nadia with her husband, Jairo, and three children, Elias, Giselle, and Dylan. She loves doing arts and crafts with her kids, making food for her whole family, and learning new cuisine.
Here's an interesting fact about her: she used to perform and compete in professional salsa dance.
Becca, Dental Hygienist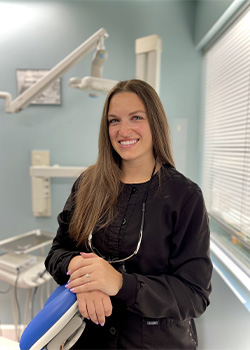 Rebecca may be a relatively new team member, but her love for connecting with patients and helping them improve their oral health makes her the perfect fit! She joined the dental field over five years ago after attending Penn State University. She has continued to expand her expertise by completing additional training in specialties like sleep apnea.
Rebecca is originally from Littlestown, PA, and she is newly engaged! She loves exercising, hiking, and going to the beach.
Here's an interesting fact about her: she is an avid fan of The Office.
Courtney, Dental Assistant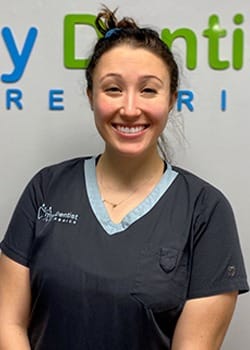 Courtney is originally from Mount Airy. She completed her studies at Frederick Community College, subsequently earning additional training and certifications in radiology, CPR, periodontal therapy, and more. Since joining our practice in 2020, she has genuinely enjoyed helping each patient love their smile again.
Courtney is the oldest of six siblings! Outside of dentistry, her interests include painting, cooking, hiking, and spending time with family.
Here's an interesting fact about her: she's ambidextrous.