Dentures – Frederick, MD
Tried and True Replacement Solution
One of the simplest ways to replace your missing teeth is through dentures. Although the concept of dentures has been around for centuries, modern advancements have made dentures better than ever before! Nowadays, prosthetic teeth are placed onto a plastic, gum-colored base, which rests on your gums and is held in place either by clasps or suction. Either way, you're left with a flawless, beautiful smile that you'll be proud to show off.
Why Choose My Frederick Dentist for Dentures?
Personalized treatment plan just for you
Natural-looking results
Most insurances accepted
Reasons to Replace Your Missing Teeth
When your smile has several gaps in it, you know that more than just your appearance is affected. Biting and chewing nutritious foods become much harder, and you may even want to avoid speaking and smiling to avoid showing your teeth. But did you know that not replacing your missing teeth can lead to more tooth loss in the future? Your remaining teeth can shift to compensate for the gaps, changing the way your bite fits together and potentially causing excessive wear on your teeth's enamel. In addition, with each lost tooth, your jaw bone loses density, weakening the support it gives to the other teeth. That's why it's important to choose the right replacement solution for your smile!
Who's a Good Candidate for Dentures?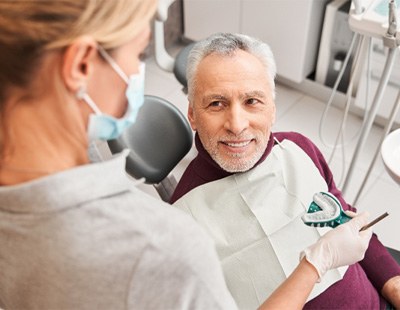 Whether you lack a few teeth or many, almost anyone with tooth loss can qualify for dentures. It's just a matter of booking a consultation with our dental team ! From there, we'll determine whether or not you're eligible for denture treatment. Even if you're not, though, never fear: You could qualify later by restoring the health of your gums and bone structure. If you'd like to learn more, keep reading or contact our office for details!
Effects of Missing Teeth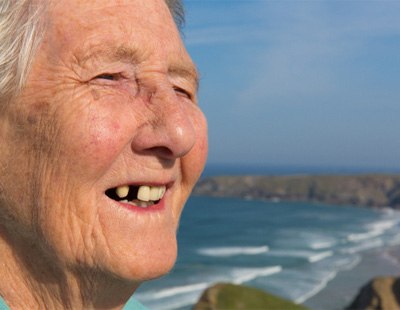 For starters, remember the causes and risks of missing teeth. Doing so emphasizes the danger that comes from not replacing your pearly whites.
When you review tooth loss' causes, it's easy to see why the issue is serious. Teeth often fall out due to decay, gum disease, dental injury, and poor oral hygiene. As such, failing to replace them leaves such conditions at large. You wouldn't want your unhealthy smile or gums to worsen, right?
Tooth loss' effects simply add insult to injury. You see, the gaps it creates tilt your remaining teeth and cause your jawbone to deteriorate. Left unchecked, those processes make your smile crooked and your face saggy. Plus, having fewer teeth in your mouth means you'll struggle to eat and speak.
What Qualifies You for Dentures?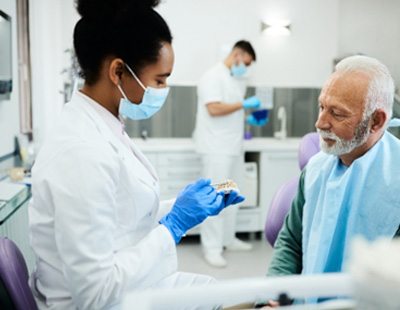 You'll generally qualify for dentures if you have major tooth loss, sensitive teeth, advanced decay, and good gum and bone tissues. That said, you must be committed to oral care and properly care for your prosthetics.
Depending on your missing teeth, some dentures may suit you better than others. For example, a partial one is best if you still have most of your chompers. Full dentures may work if you lack all the teeth along an arch.
Of course, dentures are also good for those on a budget. They tend to have a lower upfront cost than other restorations.
Alternative Tooth-Replacement Options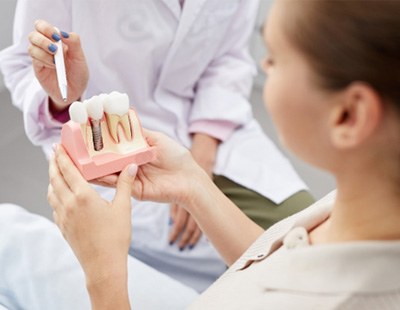 If you're not a good candidate for dentures (or decide they aren't for you), don't panic. There are other tooth-replacement options on offer! In particular, we at My Frederick Dentist could give you the following:
Dental Bridges – Bridges are ideal for those missing only one or a few teeth. After all, they clasp to your other pearly whites to stay in place. Remember, however, that bridges involve prep work that alters your remaining tooth enamel.
Dental Implants – If you want a more stable and permanent solution, you could opt for dental implants. These restorations actually fuse with your jawbone, ensuring they remain secure for many years. Still, this option requires more money than others and a sufficiently strong jaw.
Learn More About Dental Bridges
Benefits of Dentures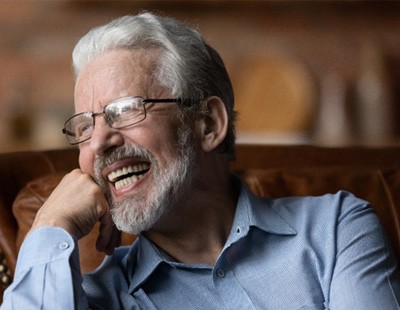 When you're missing multiple teeth, completing everyday tasks – like chewing your food and speaking clearly – becomes more challenging. Fortunately, dentures can improve the quality of life for patients who are missing several, most of, or all of their teeth. Here are some of the benefits that dentures can provide if you've suffered from tooth loss.
Psychological Benefits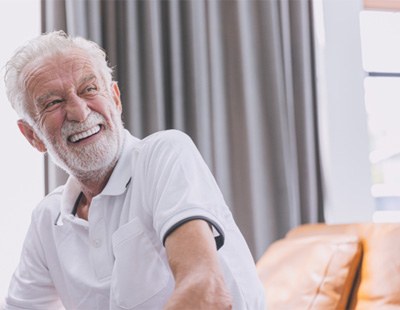 Missing teeth can have numerous negative effects on a person's mental health. If you have obvious gaps in your smile, it can impact your confidence. By restoring your smile with dentures, you can regain your self-confidence and feel better about your appearance. Dentures can alleviate many anxieties, including appearance-related concerns and issues related to speaking and eating.
Clearer Enunciation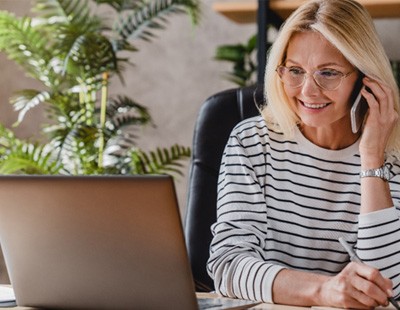 When you are missing teeth, your speech can sound unclear. To pronounce your words correctly, your tongue and lips need to be positioned properly. When you can't touch your tongue to the back of your teeth, some words will be difficult for others to understand. By replacing the teeth that are missing, dentures enable you to speak more clearly. After a short adjustment period and some practice, talking with your new smile will feel natural.
Improves Nutrition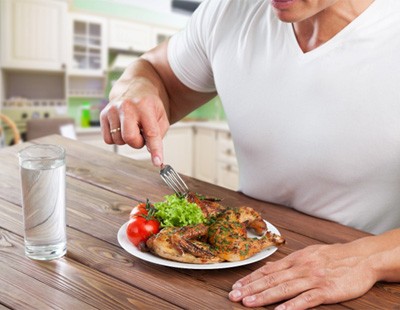 Many nutritious foods are tough in texture, including fruits, vegetables, and healthy proteins. When you can't chew healthy foods, you can experience digestive problems and even lack certain nutrients. Dentures can help you to enjoy a more varied diet, therefore boosting your body's nutritional intake and improving your health.
Preserves Oral Health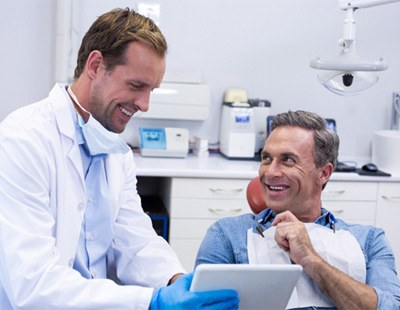 Dentures can help to prevent your remaining healthy teeth from shifting around in the mouth. They also redistribute some of the stress caused by chewing, therefore reducing the wear and tear on your remaining teeth.
Expands Opportunity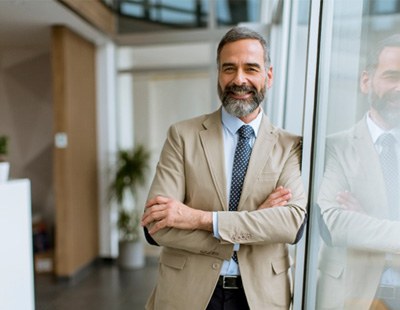 The first impression you make for an employer or when working towards a promotion is important, and having a complete smile can help! When you feel good about the way you look, it shows. This can lead you to greater opportunities in both your professional and personal life.
Types of Dentures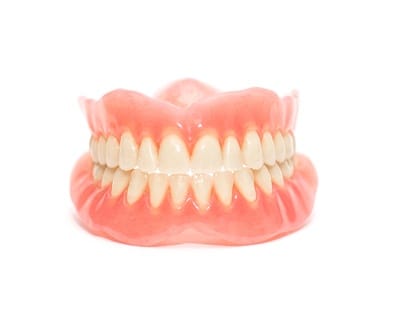 We can cater your dentures to meet your specific needs. For instance, partial dentures can fill in non-consecutive gaps, even on opposite ends of an arch. In contrast, full dentures provide strong, beautiful tooth replacement even after total loss. Depending on your situation, our team can create a treatment plan that enables you to regain a confident, fully functional smile!
Implant-Retained Dentures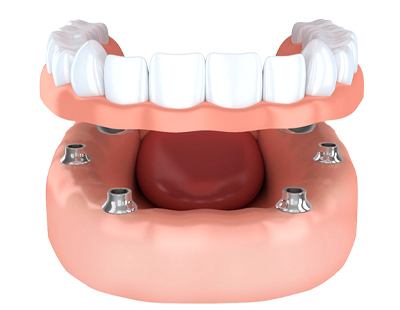 As advanced as dentures have become over the years, they still have some disadvantages on their own. Over time, they can slip out of place and require frequent replacement and adjustment to fit comfortably. The solution? Secure your dentures with dental implants. Not only will this combination eliminate inconvenient slipping, but it also restores more of your natural biting power and promotes better oral and bone health in the long term. For the most benefits, seriously consider getting implant-retained dentures.
Learn More about Dental Implants
Are you ready to rebuild your smile with dentures? Contact our team in Frederick to get started!
How Dentures Are Made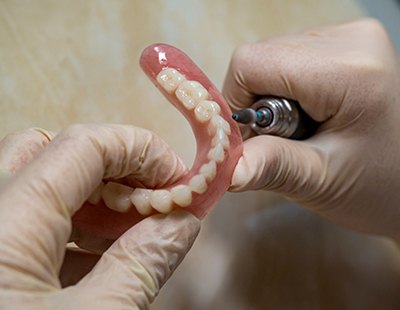 You know dentures are designed just for you, but what does the process look like? Understanding how they are made and which materials they are comprised of will help you to appreciate your new smile even more! Read on to learn how we get to the final results.
What Are Dentures Made Of?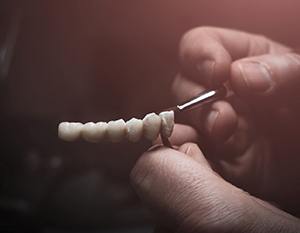 Dentures are made from two different parts – the base of the denture and the replacement teeth. Here's what each component is comprised of:
Denture Base: This is the foundational structure that gives the artificial teeth support. It can be made from a variety of different materials, including acrylic, nylon, or resin. Full dentures are most often made using acrylic because they can be tailored to closely match your natural gum tissue. Partial dentures may use metal clips with an acrylic base.
Artificial Teeth: The replacement teeth are attached to the denture base. They are often made from resin or porcelain because they both have a natural appearance. However, porcelain is a more popular option because it looks and feels just like natural teeth. It's also a very durable material.
The Denture Creation Process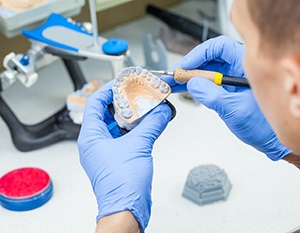 Each denture is customized for the patient's mouth, so it requires a multi-step process. Here's a step-by-step of what this typically looks like:
Step 1: First, your dentist will take impressions of your upper and lower gums using a thick paste. This is used to create a plaster model that's essentially a replica of your mouth. The model is used to ensure the final denture is of the appropriate size and shape. Measurements of the jaw may also be taken for optimal precision.
Step 2: The model is sent to a dental laboratory where the dentures will be crafted. First, they'll create a wax version of the gumline.
Step 3: Artificial teeth are set into place. A mechanical device known as an articulator will be used to attach the teeth with wax. The technician will make minor adjustments by shaping and carving the wax to ensure it looks like your gums. This wax base will be used for your finished dentures.
Step 4: The wax dentures are sent to your dentist for a fitting. If they're approved, the dentures will be sent back to the dental lab to complete the process. In the meantime, you will wear temporary dentures while your permanent ones are being made.
Step 5: Once back at the lab, the technician will boil the dentures to get rid of the wax portions. To do this, the dentures are placed in a flask, which is a holding device into which plaster is poured to maintain the shape of the dentures. The entire flask is placed into the water to melt away the wax.
Step 6: Holes are made in the teeth so the material can be attached. A liquid separator is added to the plaster layer to stop the acrylic from sticking to it. Acrylic is then injected into the flask to replace the wax.
Step 7: The plaster is carefully removed using special lab tools to reveal the denture. The acrylic dentures are then placed in an ultrasonic bath to remove any remaining plaster.
Step 8: Any excess acrylic will be cut from the denture. After trimming, the denture will be polished to perfection.
Step 9: Now that it's ready, you will return to the office for a fitting. Adjustments will be made as needed to ensure everything is working properly and smoothly.
Learn More About All-on-4 Dentures
Adjusting to Your New Dentures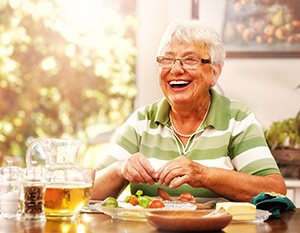 You may feel some discomfort when you first get your new dentures. Rest assured that this is completely temporary. After a short adjustment period, your mouth will get used to the dentures, and they will feel very similar to your natural teeth. During this time, remember to stick to softer foods and exercise your facial muscles. If discomfort persists, give us a call so we can help.
Understanding the Cost of Dentures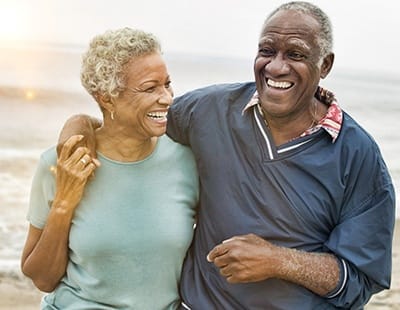 Tooth loss can be a traumatic life event that has a lasting impact on you, and our team is here to help by restoring your smile's function and appearance, boosting your confidence and helping you feel great again. We don't want the cost of dentures in Frederick to stand in the way. We offer countless ways to finance and pay for this treatment, and we're more than happy to help you navigate the financial process. Just give us a call!
Factors that Affect the Cost of Dentures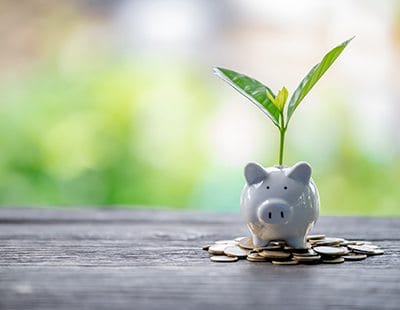 The process of getting dentures is relatively straight-forward, but there are some details that can impact the price of your treatment:
Do you require additional treatments like a tooth extraction or gum disease therapy beforehand?
What type of acrylic base would you like for your dentures?
Would you like replacement teeth custom-made from porcelain or acrylic?
Even though choosing the least expensive options may be the most tempting so you can save money, that isn't always the best decision to make. During your consultation, our dentists can help you determine which materials may be best for you and the difference between each option.
Are Implant Dentures More Expensive?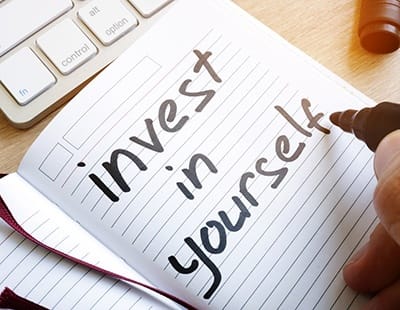 It's true that implant dentures have a higher up-front cost than traditional dentures; however, it's important to keep in mind that this modern treatment is a better overall value for many patients. Unlike traditional dentures that last about seven years, implant dentures can last for over 35 years with proper maintenance. Not to mention, because they replace the entire structure of missing teeth, you won't have to worry about jawbone deterioration or a changing facial structure.
Does Dental Insurance Cover Dentures?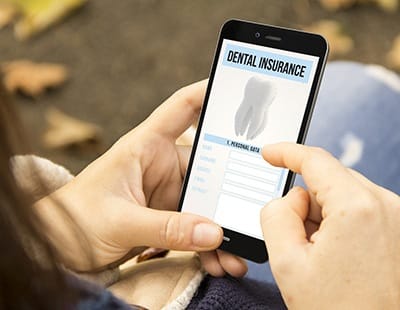 Most dental insurance plans cover around 50 percent of the cost of dentures in Frederick. However, it's important to keep in mind that every plan varies, so in order to determine how much yours will cover, it's best to contact your insurance provider directly. Our team at My Frederick Dentist is more than happy to help you navigate your coverage before you commit to treatment!
Other Options for Making Dentures Affordable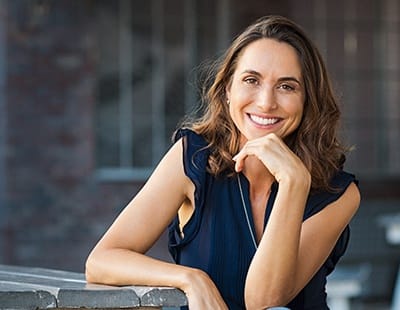 In addition to being in-network with most major PPO dental insurance plans, we also offer an in-house savings membership plan as well as additional financing through CareCredit. Through our membership plan, you can get discounts on a variety of treatments, and with CareCredit, you can get a flexible monthly payment plan at little to no interest so your treatment doesn't ruin your monthly budget. If you have any questions about these options, feel free to reach out to us!
Dentures Aftercare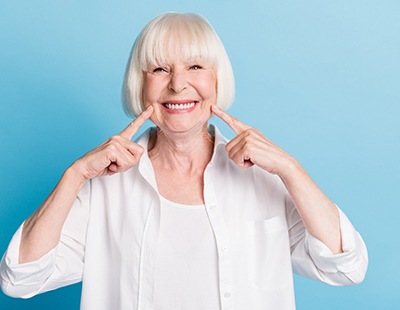 Your dentures can completely transform your appearance and the function of your smile. However, even if you don't have any natural teeth left, you should still head to the dentist for regular checkups. Your dentist will continue to monitor any existing teeth and gum tissue. They will also keep an eye out for abnormalities that could indicate oral cancer. When you have dentures, it is very difficult to notice these changes in your mouth on your own. Early detection from your dentist is key to making a complete recovery.
Removeable Dentures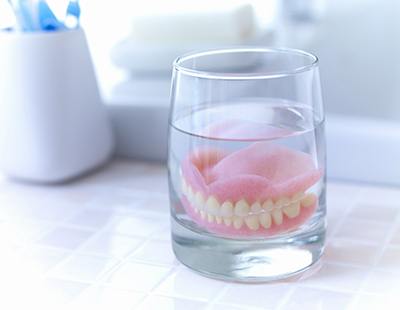 Remove After Eating
After each of your meals, you need to remove and rinse off your dentures. This will help to prevent buildups of food debris and plaque. When rinsing, don't use hot water. This can warp the denture materials and cause your prosthetic not to fit properly.
Clean Your Restoration
When it is time to clean your dentures, take them out first. Use a soft-bristled toothbrush and a small amount of unscented hand soap, mild dish soap, or a denture cleanser to gently brush your dentures. You shouldn't use regular toothpaste, as dentures are unable to stand up to abrasive products. If you won't be immediately wearing your dentures again, place them in a container of water or denture cleansing solution to prevent them from drying out and losing their shape. You should always rinse your dentures thoroughly before putting them back in your mouth.
Keep Your Dentures Safe
Whenever you clean your dentures, it's a good idea to place a towel underneath you just in case they slip out of your hands. This way, you can reduce the chances of your dentures becoming damaged. You should also keep your dentures out of the reach of small children and pets.
Remove When You Sleep
You should remove your dentures at night before you go to bed. Wearing dentures restricts circulation in your gums and can lead to soft-tissue irritation if you don't give your gums a break. Sleeping while wearing dentures has also been associated with a higher risk of pneumonia as well as higher levels of gum and tongue plaque. Keep your dentures in a denture-soaking solution to prevent them from losing their shape.
Notice Changes
Keep an eye out for changes so you can address them with your denture. This includes mouth sores, gum irritation, or signs of infection. If your dentures become damaged, you shouldn't attempt to repair them on your own. Instead, contact your dentist. If you notice that your dentures are shifting, clicking, or showing other signs of not fitting properly, let your dentist know.
All-on-4 Dentures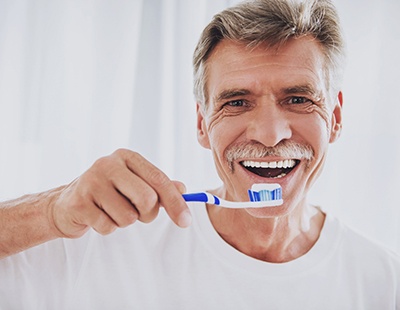 If you have All-on-4 dental implants, the aftercare process looks a little bit different. You should brush your dentures twice a day using a soft-bristled manual or electric toothbrush and non-abrasive toothpaste. Avoid toothpaste that contains baking soda or stain-removing agents. Floss your replacement teeth once a day. You can find floss threaders to help you brush beneath your dentures. You may also want to consider investing in a water flosser to keep your restored smile extra fresh! Sulcus brushes are about 1/3 of the width of normal toothbrushes, so they can be great for cleaning between your denture and gums. Lastly, rinse your mouth with an antibacterial mouthwash on a daily basis to prevent the growth of tartar.
Denture FAQs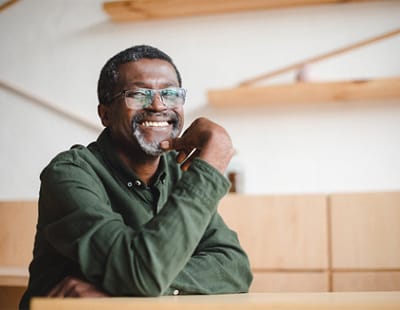 Would you like to learn more about dentures in Frederick? As one of the most cost-effective and popular replacement options for missing teeth in Frederick, we want you to have all of the details you need to make an informed decision. To help, we've answered some common questions that we receive from our patients below.
How do I clean my dentures?
Cleaning your dentures every day is an important step in maintaining your oral hygiene. It's important to keep your gums healthy so your dentures have a strong foundation to secure to. Here are some ways you can keep your restorations clean and sanitized:
Brush them with a special denture toothbrush and non-abrasive denture cleaner.
Never rinse your dentures under hot water because it can warp their shape.
Soak your dentures each night.
Wash your gums every day to reduce harmful oral bacteria accumulation.
Never wear your dentures for a full 24 hours without cleaning them.
If you have any questions about denture maintenance or would like some additional tips, be sure to ask us during your next appointment.
Can I wear my dentures while I sleep?
Unfortunately, it's not recommended to wear your dentures while you sleep for a few different reasons. First, it's always a good idea to give your gums a rest after supporting your dentures all day. Secondly, it's important to never go a full day without taking your dentures off. Lastly, in order for your dentures to maintain their shape and not dry out, it's important for you to soak them overnight.
When should I replace my dentures?
Dentures need to be replaced every five to eight years, depending on a variety of factors. With the proper maintenance and regular checkups, you can extend their lifespan and get the most out of your restorations.
Do I have to visit the dentist every six months if I have dentures?
Even though your replacement teeth won't develop cavities, it's still important to visit your dentist in Frederick every six months for a checkup and cleaning. This will ensure that they're functioning properly and will help keep your gums as healthy as possible. Plus, these are a great time to voice any concerns or questions that you may have for your dentist in Frederick about symptoms you've noticed or any other issues.
Should I Have All My Teeth Pulled to Get Dentures?
Generally, you shouldn't have all your teeth pulled to get dentures. Repairing a damaged tooth (when possible) is better than replacing it.
You see, tooth extractions have downsides. They produce smile gap(s) that house harmful germs and tilt surrounding teeth. As such, a dentist will only perform them when necessary. Only if a tooth suffers extensive decay, severe infection, or trauma would pulling it be ideal.
That said, there are exceptions to the rule. When all teeth in an arch are decayed or infected, replacing them with dentures can be cost-effective. So, consult your dentist before deciding on anything.
Can You Still Eat Steak with Dentures?
Technically, yes – you can still eat steak with dentures. Since it's a tough meat, though, you'd have to take the right precautions.
For starters, have the steak tenderized beforehand. Select tenderloin and other beef cuts contain few connective tissues or muscle fibers. Therefore, they'll be hard to chew unless properly prepared.
You should also cut the steak into small, manageable pieces. The smaller these bits are, the easier to chew and swallow. You won't have to use your jaw or dentures as much.
Lastly, ensure your dentures fit properly. Feel free to use an adhesive as you adjust to them. That way, the prosthetics would stay in place and allow easy chewing.
Can Dentures Reduce Life Expectancy?
Though not always, dentures can reduce your life expectancy. Research shows that wearing them may decrease your lifespan by up to ten years.
The issue comes down to bite force. When you lose teeth, your weakened jaw can't chew certain foods well. As a result, many denture-wearers restrict their diet and avoid healthy meals. These changes can then lead to malnutrition and weight loss.
However, dental implants could solve this problem. Attaching them to dentures greatly restores one's bite force. From there, you'd get to maintain a more varied diet.
Can You Kiss with Dentures?
You can kiss with dentures. Still, the sensation of doing so can feel unfamiliar. You'll likely need time to adjust to it.
You see, dentures don't contain nerves like real teeth do. It's thus hard to track their position in your mouth. That being the case, you'll want to be cautious. You might kiss someone too hard or bump your dentures against your partner's teeth.
In particular, remember to kiss gently. Doing so will ensure your prosthetic teeth don't shift out of place.