Dentures – Frederick, MD
Tried and True Replacement Solution
One of the simplest ways to replace your missing teeth is through dentures. Although the concept of dentures has been around for centuries, modern advancements have made dentures better than ever before! Nowadays, prosthetic teeth are placed onto a plastic, gum-colored base, which rests on your gums and is held in place either by clasps or suction. Either way, you're left with a flawless, beautiful smile that you'll be proud to show off.
Why Choose My Frederick Dentist for Dentures?
Personalized treatment plan just for you
Natural-looking results
Most insurances accepted
Reasons to Replace Your Missing Teeth
When your smile has several gaps in it, you know that more than just your appearance is affected. Biting and chewing nutritious foods become much harder, and you may even want to avoid speaking and smiling to avoid showing your teeth. But did you know that not replacing your missing teeth can lead to more tooth loss in the future? Your remaining teeth can shift to compensate for the gaps, changing the way your bite fits together and potentially causing excessive wear on your teeth's enamel. In addition, with each lost tooth, your jaw bone loses density, weakening the support it gives to the other teeth. That's why it's important to choose the right replacement solution for your smile!
Benefits of Dentures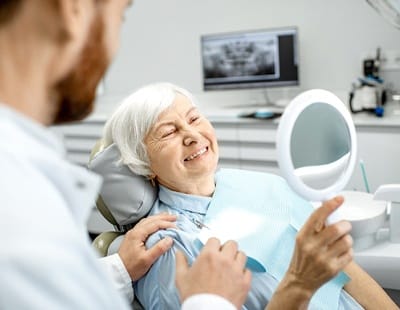 Whether you need to replace a few teeth or an entire arch, we can fit you for custom-made dentures. These time-tested appliances have many benefits, including the following:
Lifelike appearance.
Convenience in cleaning.
Affordable price.
More comfort than ever before.
Preservation of spacing for remaining teeth.
Types of Dentures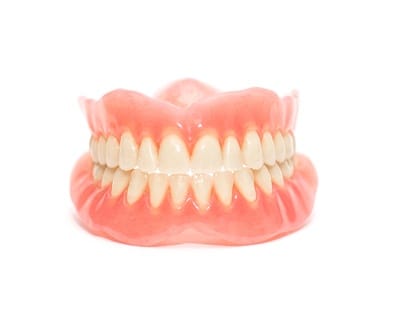 We can cater your dentures to meet your specific needs. For instance, partial dentures can fill in non-consecutive gaps, even on opposite ends of an arch. In contrast, full dentures provide strong, beautiful tooth replacement even after total loss. Depending on your situation, our team can create a treatment plan that enables you to regain a confident, fully functional smile!
Implant-Retained Dentures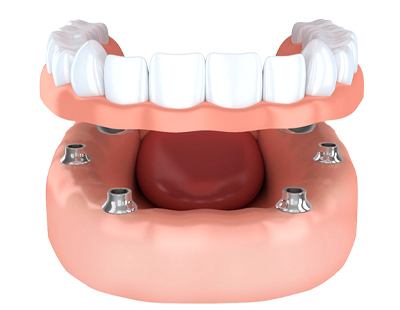 As advanced as dentures have become over the years, they still have some disadvantages on their own. Over time, they can slip out of place and require frequent replacement and adjustment to fit comfortably. The solution? Secure your dentures with dental implants. Not only will this combination eliminate inconvenient slipping, but it also restores more of your natural biting power and promotes better oral and bone health in the long term. For the most benefits, seriously consider getting implant-retained dentures.
Learn More about Dental Implants
Are you ready to rebuild your smile with dentures? Contact our team in Frederick to get started!