Missing Single Tooth – Frederick, MD
How Replacing the Roots Makes a Difference
If you think you don't have to undergo tooth replacement simply because you're missing one tooth, we encourage you to reconsider. Even if your tooth is not easily visible, that doesn't mean it won't negatively affect your oral health. In fact, your risk for future tooth loss only goes up the longer you go without replacing it. Much like tooth decay, tooth loss spreads to the rest of the mouth as the jaw bone begins to break down and teeth start to shift. Thankfully, there are options available to you at My Frederick Dentist. Feel free to give us a call directly to learn which solutions are right for you.
What are Your Options for Tooth Replacement?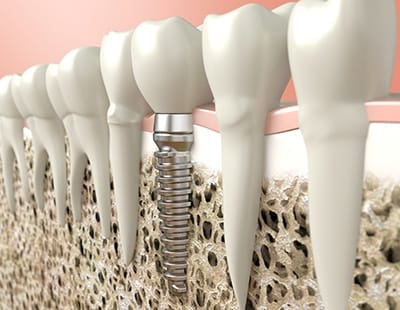 Generally, patients have two options when they want to replace teeth. One is surgical (dental implants) and the other is non-surgical (dental bridges.)
Fixed dental bridges are a series of crowns fused together to create one larger restoration. In order to remain stable, the crowns on either end of the bridge are hollowed out so they can securely attach to teeth sitting adjacent to the gap in your smile. Once placed, the restoration in between these crowns (also known as pontics) will fill the gap in your mouth. Not only does this prevent teeth from shifting out of place and misaligning your bite, but it ensures long-term function and natural-looking esthetics.
In contrast, dental implants require the surgical implantation of a titanium post that integrates with existing bone and soft tissue. This post reaches beneath the gum line so it can reach the bone tissue. Once integrated, it can support a restoration entirely on its own, meaning no removal of existing enamel is required. However, this healing process will take several months to complete. While surgery is necessary for this treatment, our office takes the steps necessary to ensure it is as minimally invasive as possible. Once the implant and abutment are placed, a porcelain crown is attached. Your tooth replacement should feel almost identical to a natural tooth.
Why You Should Consider Dental Implants for Missing Teeth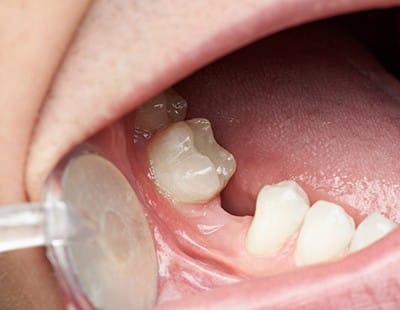 It's true that both tooth replacement options will fill the gap in your smile, but only dental implants provide the following benefits:
Bone Preservation: Dental implants are designed to bond with bone tissue naturally, which prevents that bone from breaking down further. This ensures your jaw maintains its shape, which means your facial appearance remains relatively unchanged following implant treatment.
Enamel Preservation: Since dental bridges require removal of existing tooth enamel to place, dental implants allow you to maintain as much of your natural tooth enamel as possible.
Longevity: Dental implants are designed to last 30 years and longer when properly taken care of. On average, most dental bridges require replacement after 10 to 15 years of use.
Natural Look and Feel: While dental implants look natural thanks to the porcelain materials utilized, they also feel like real teeth when you bite into foods because they stimulate existing bone tissue.