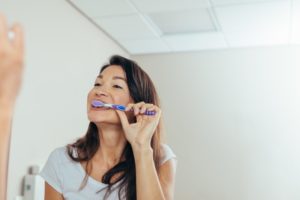 Due to the COVID-19 crisis, dentists across the country have postponed all elective procedures in an effort to protect their staff and patients. Unfortunately, this also means that you won't be able to get a checkup and cleaning until further notice. In the meantime, it's important for you to take great care of your teeth and gums to ensure that no dental problems develop. Read on for four oral health tips from your dentist in Frederick to take care of your smile until they open up their practice again.
Make a Dental Hygiene Routine
While you're self-isolating, time can get lost, and it can be easy to fall out of your regular routine, which is why it's important to make a new dental hygiene routine that you can easily stick to. Be sure to make a new routine that fits around your schedule, so you have enough time to brush, floss, and rinse every day. To help you remember to do this, you can place a sticky note on your mirror or set a reminder in your phone.
Maintain a Nutritious Diet
Many people don't consider how their daily diet can impact the health of their teeth and gums. Consuming many processed foods that are commonly known to contain high amounts of sugars and carbohydrates can cause bacteria accumulation in your mouth. These substances are common power-sources for harmful oral bacteria, and after they eat them, they're able to produce waste in the form of acid and toxins that can wear away enamel and infect your gums. Instead of snacking on processed foods, try substituting healthier alternatives, such as celery and peanut butter or fresh slices of bell pepper and guacamole.
Don't Forget to Floss
According to a survey conducted in the United States, about 30 percent of people don't floss. Many people find flossing their teeth every day to be a cumbersome and pointless task. However, the American Dental Association says that in order to maintain healthy teeth and gums, it's important to floss at least once a day. This helps remove plaque and food debris from areas of your mouth that your toothbrush can't get to, ensuring that no cavities develop between your teeth.
Avoid Brushing Too Hard
It makes sense to think that the harder you brush, the cleaner your teeth will be. However, that's not the case. Aggressive brushing can wear away your tooth enamel and cause your gums to recede, leaving your teeth vulnerable to infections and sensitivity. You only need to place a slight amount of pressure on your toothbrush in order to effectively remove all plaque and food debris from your mouth.
When you follow these four oral health tips in Frederick, you can keep your mouth healthy for the duration of your self-isolation and ensure that your next checkup and cleaning won't involve treating several oral health problems!
About the Practice
At My Frederick Dentist, we offer the high-quality dental care of four dentists. Each of our professionals is passionate about helping patients optimize their oral health so they can enjoy their natural pearly whites for their entire lifetime. With all of their knowledge and skills combined, we're able to offer comprehensive dental care, including every treatment from a routine checkup and cleaning to dental implants. For questions or to schedule a checkup and cleaning, visit our website or call 301-698-9552.