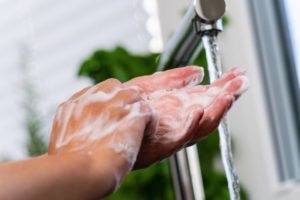 Even before the COVID-19 pandemic, dental practices have always been some of the cleanest places in the country because of their rigorous infection control protocols. These strict sanitation standards are what protect you from illnesses like the common cold and the flu during your visits. In these unusual times, even more dental safety protocols in Frederick have been established, especially in regards to hand hygiene. Here are a few ways your Frederick dentist and their team are keeping their hands exceptionally clean for your appointment in COVID-19.
Advanced COVID-19 Training
Before reopening their practice, your Frederick dentist and their team completed additional COVID-19 safety training. This new information on prevention and awareness covered a variety of important topics, like the most effective hand hygiene practices to use in a pandemic.
Excellent Hand Hygiene
Your dental team wears a brand-new pair of gloves for each patient to prevent the spread of germs. They also frequently wash their hands throughout the day, including:
Before and after treating each patient.
Before putting on and directly after taking off a pair of gloves.
Designated Safety Champion
Each day, a team member will be designated as the Safety Champion. They're tasked with ensuring all new safety protocols are being followed correctly and being available to answer any questions from patients or staff.
CDC-Approved Sterilization
Now and always, your Frederick dentist completely sterilizes any tool or piece of equipment that comes near your mouth. They'll use methods that have been outlined by the CDC, like:
High heat or steam under pressure.
Powerful cleaning chemical vapors.
Touch-Free Greetings
Until the threat of COVID-19 has passed, your dental team will be working to keep their hands and yours germ-free by postponing handshakes and hugs. Instead, they'll use a variety of creative no-touch greetings to welcome you back into the practice.
Personal Protective Equipment
Gloves are an essential piece of personal protective equipment for a dental professional to use. These days, you'll see that they are now also utilizing:
Face shields and N95 and ASTM level 3 masks.
Disposable, protective coats and hats.
Thorough Cleanings After Every Appointment
Since COVID-19 can linger on a variety of surfaces, anything you or your dental team touches needs to be cleaned regularly. After each appointment, all surfaces, instruments, and equipment are wiped down, sanitized, and thoroughly disinfected.
No Magazines or Activities
Frequently touched items like magazines, toys, and pamphlets can also harbor germs for minutes, hours, or days at a time. Several steps have been taken to minimize the risk of touching a contaminated object, including:
Removing all commonly handled objects from the reception area.
Sanitizing high-traffic fixtures like countertops and doorknobs hourly.
Maintaining clean, germ-free hands is more important than ever in the COVID-19 pandemic. Thankfully, your dentist and their team have years of experience keeping both you and their hands as healthy as possible. If you need to visit them for care, you can rest assured that you are in good, capable, and clean hands!
About the Practice
At My Frederick Dentist, nothing is more important than the wellbeing of our patients, staff, and the community of Frederick, MD. After closely monitoring the COVID-19 pandemic and adjusting our safety practices accordingly, we have established 22 additional infection control protocols. These thorough precautions are all designed to keep you as safe as possible while we provide the dental care you need after months in quarantine. If you'd like to learn more about our Commitment to Safety, we can be reached via our website or at (301) 698-9552.