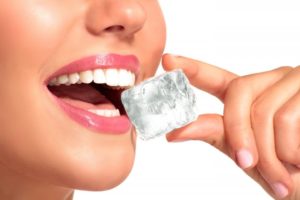 Out of all the advancements in modern dental technology, dental implants might be the most remarkable. Due to their biocompatible nature, they fuse with your jawbone and create a powerful bond that can last for decades to come. However, not taking proper care of them can cut their lifespan short. In fact, some of the things you do every day might actually be damaging your implants. If you have dental implants in Frederick, here are five habits you should avoid.
1. Biting Your Nails
The force of nail-biting could chip or fracture your implant restoration. Protruding your jaw outward for too long can place undue stress on it, which may contribute to bite alignment problems or teeth grinding. To top it off, you could injure your gums.
Some patients find that wearing a clear, bitter-tasting nail polish can deter them from this habit. It might also help to wear a rubber band around your wrist and snap it when you feel tempted to bite.
2. Brushing Too Forcefully
Applying too much pressure while brushing can lead to gum recession, exposing the roots of your teeth. This leaves you more vulnerable to gum infections that can compromise the success of your implants. As you're brushing, imagine you're polishing an eggshell rather than scrubbing a dish.
3. Grinding Your Teeth
Also called bruxism, teeth grinding puts pressure on your implants. If they're not fully fused with your jawbone, this could even lead to implant failure.
Use relaxation exercises to lower anxiety and reduce the risk of grinding. Additionally, wearing a custom-made nightguard from your dentist can provide protective cushioning between your top and bottom teeth.
4. Chewing on Ice
Your implant restoration is durable, but it's not invincible. Constantly clashing ice against it can result in breakage. Resist the temptation by sipping your beverage through a straw or not getting ice in it at all.
5. Using Your Teeth as a Tool
It might seem convenient to open bottles or packages with your teeth, but doing so can fracture your restoration, damage your gums, or injure your jaw. Instead, always reach for the scissors or whatever tool is made for the job.
Dental implants are by far the most beneficial way to replace missing teeth in Frederick. As long as you stay away from these habits, practice diligent oral hygiene, and see your dentist regularly for checkups, your new smile should last a lifetime!
About the Author
Dr. Andres Jimenez-Wolf graduated from dental school in his native Venezuela before moving to the United States and enrolling in the Boston University Goldman School of Dental Medicine. Since then, he has become a Board-Certified periodontist (a dentist who specializes in gum care) as well as a Diplomate of the American Board of Periodontology. This gives him the credentials to place and restore dental implants. To learn more about how to protect your implants, contact My Frederick Dentist at (301) 698-9552.