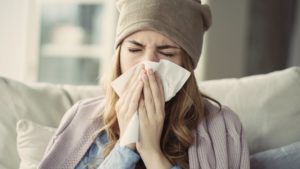 To say that the first part of 2020 has prepared us for cold and flu season would be an understatement. With everyone wearing face masks, washing their hands frequently, and social distancing, the last thing many people are worried about these days is catching a cold. For people with Invisalign in Frederick, though, staying healthy requires taking a few extra precautions. Here's what you need to know to survive the cold and flu season with Invisalign.
Wash Your Hands Before Touching Your Aligners
Every time you remove your trays to eat or clean your teeth, you'll need to thoroughly wash your hands first. Then, wash them again before you put them back in your mouth. This will keep you from unknowingly transferring germs from your hands to your mouth.
Choose Sugar-Free Medicine
A sore throat can often be remedied by a soothing sip of cough syrup or a throat lozenge. Unfortunately, many of these medicines are absolutely loaded with sugar. Even people without Invisalign should avoid them. However, if you do have Invisalign, the sugar can get trapped between your aligners and your teeth, speeding up the growth of bacteria that cause cavities. Although they might exactly be delicious, choose sugar-free cold medicine when you can.
Be Aware of Where You Place Your Trays
Whether you're working in an office or at your dining room table, you should never set your aligners down on a stack of papers, filing cabinet, desk, etc. Not only can it be all too easy to misplace your trays, but these surfaces can harbor tons of germs. The only place you should store your aligners should be your Invisalign carrying case, which you should clean regularly.
Keep Your Aligners Clean
Cleaning your aligners daily can minimize the number of germs they carry. After you take them out to eat, let them soak in a glass of Invisalign cleanser or room-temperature water (hot water can distort their shape). Once a day, gently scrub them under running water with a soft-bristled toothbrush and a clear antibacterial hand soap. Don't use toothpaste, as that could damage the plastic. Regular cleaning can not only prevent your aligners from staining, but lower your risk of exposure to germs of all kinds.
Due to the pandemic, this year's cold and flu season in Frederick will probably be unlike any that have come before. If you have Invisalign, make sure to follow these tips. It can keep you as well as your friends and family from getting sick, all while you're achieving a perfectly straight smile!
About the Practice
At My Frederick Dentist, we are proud to offer Invisalign to help our patients discreetly straighten their smiles. We have a team of several skilled dentists, including a Board-Certified periodontist. To keep our patients safe in the age of COVID-19, we've implanted many additional safety protocols. If you're interested in learning how to avoid getting sick this winter, or if you want to start Invisalign treatment, contact us at (301) 698-9552.