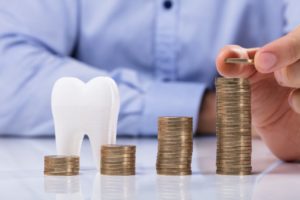 If you're looking for the best way to replace your missing teeth, dental implants are the most reliable, long-lasting, and comfortable solution. However, if you're on a budget or have dentures, you may be wondering "Are dental implants in Fredrick worth the cost?" While dental implants have a higher initial cost than other tooth replacement options like dentures or a dental bridge, they offer important advantages for both your smile and your wallet over time. Here are five reasons why patients and professionals agree dental implants are absolutely worth their cost in the long run.
1.) Save Money on Replacements and Repairs
More traditional tooth replacements like dentures and dental bridges lose their fit and need to be replaced every 10-15 years. Over time, this can end up costing you a significant amount of time and money! With the one-time cost of dental implants, you can easily expect your newly rebuilt smile to last for 30 years or more.
2.) Spend Less Time & Money on Your Dental Routine
Caring for your dental implants won't require you to buy any special brushes, pastes, or cleaners. In fact, you won't have to change your normal daily dental routine at all! Great oral hygiene practices like regular brushing, flossing, and rinsing with mouthwash are all that's needed to keep your new smile strong and sparkling.
3.) Prevent the Cost of Future Oral & Overall Health Issues
Since dental implants are easy to keep clean and don't irritate your gums or wear down your teeth, they naturally promote better oral health. Not only does this lower your risk of issues like tooth decay and gum disease (as well as the costs of treating them), but it can help keep the rest of your body healthy as well. Numerous studies show that poor oral health is linked to diabetes, arthritis, memory loss, and even an increase in cardiovascular care costs.
4.) Preserve Your Youthful Facial Features
The roots of your teeth promote circulation in your jawbone. When a tooth goes missing and that stimulation stops, the jawbone will begin to deteriorate, which causes the facial bones it supports to shift. Eventually, this leads to a smaller jaw and sunken, aged facial features. The posts that hold dental implants in place are designed to mimic the roots of your missing teeth, which encourages blood flow in the jawbone and keeps it strong and healthy, preserving your youthful appearance.
5.) Regain Priceless Confidence
Dental implants have the potential to dramatically improve your quality of life. They allow you to eat all your favorite foods comfortably and feel confident in the long-term health of your mouth and jaw. Thanks to their unique placement, you'll never have to worry about them feeling loose or popping out of place at embarrassing times. Simply put, you can't put a price on the confidence and peace-of-mind dental implants can help you regain.
The long-term benefits of this unique tooth replacement option make them well worth the price. To learn more about the cost of dental implants in Fredrick, don't hesitate to contact your dentist for a consultation.
About the Practice
If you're ready to see if dental implants are right for you, My Fredrick Dentist is proud to offer free dental implant consultations. Their talented team of highly experienced dentists can complete every step of the dental implant process under one roof to replace any number of missing teeth. Alongside traditional payment methods and dental insurance, they offer financing through CareCredit as well as an in-house Membership Club to help make achieving your new smile as affordable as possible. To learn more, don't hesitate to contact them via their website or at (301) 698-9552.