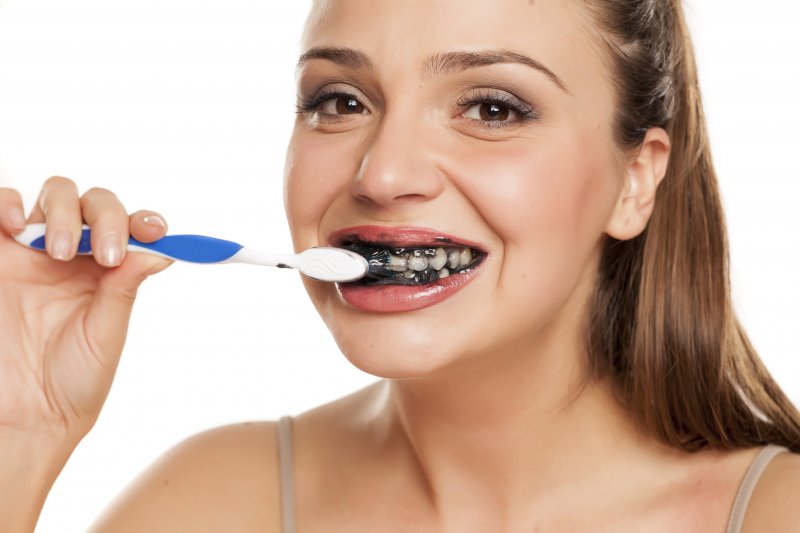 Everyone wants to have a bright white smile, but discoloration happens naturally over time, especially if you like to enjoy things like coffee, tea, and red wine. It is something that many people are self-conscious about. No wonder you see so many recipes and techniques online for DIY teeth whitening. Unfortunately, a lot of these 'hacks' can leave your oral health at risk. Continue reading to learn about the dangers of DIY teeth whitening, plus a safe alternative from your cosmetic dentist in Frederick.
Charcoal Toothpaste / Products
One of the biggest trends at the moment is using activated charcoal as a way to whiten teeth. The idea is that the charcoal draws out impurities and surface stains, leaving your teeth whiter and brighter. Even though there may be some truth behind this DIY hack, people who do this are putting themselves at risk for enamel abrasion. Ultimately, dentists have not deemed this safe for teeth, as enamel does not grow back when its gone.
Baking Soda Toothpaste
Toothpastes that contain baking soda are very common. You can even make your own at home. It does naturally whiten teeth, so many people see short-term results. The issue is that baking soda is mildly abrasive. When you use it on your teeth regularly, it can weaken your enamel over time. Instead, you should choose toothpastes that are free of bicarbonate of soda.
Over-the-Counter Bleaching Kits
You see countless over-the-counter bleaching kits when you go to the supermarket, but there is a reason why the American dental association hasn't approved any of these products. When you have professional whitening done, a consultation is completed beforehand to ensure that you don't have preexisting issues that could be worsened in the process. If you have a cavity, crack, or damaged filling, using a bleaching kits could leave you with serious problems and extreme pain.
DIY Lemon Juice Whitening
Some DIY whitening trends use lemon juice. Just because it's all natural doesn't mean that it is a great option for your smile. Lemon juice is very acidic, so you are basically just applying acid to the front surface of your teeth. Ultimately, the top layer of your enamel can be worn away, making it more likely that you develop tooth decay and sensitivity.
How Should You Whiten Your Teeth Instead?
A better, safer way to brighten up your smile is by seeing your dentist for professional, in-office teeth whitening. After ensuring that your teeth and in good health, your denture will secure your gums, lips, and other soft tissues so they don't become damaged, apply a numbing medication if you are prone to tooth sensitivity, and apply a whitening agent in 15-minute increments. This is stronger than any whitening agents that you can find over the counter and will leave you with teeth that are many shades whiter in just an hour.
You don't need to settle for discoloration, but don't let these DIY teeth whitening hacks fool you. They could be doing more harm than good. By seeing your dentist, you can leave the practice with a beautiful, bright smile that you are proud to show off.
About the Author
Dr. Andrew Aziz is an experienced dentist who has been working in the field for nearly a decade. He earned his dental doctorate from the University of Maryland School of Dentistry and regularly attends advanced training in numerous specialties, including cosmetic dentistry. If you are struggling with discoloration or staining, he'd be happy to help. To learn more about teeth whitening or to schedule an appointment at his office in Frederick, visit his website or call (301) 698-9552.