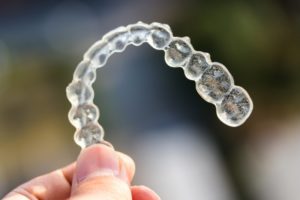 From appearance, to comfort, to convenience, Invisalign clear aligners offer an array of advantages over traditional braces. In fact, this unique treatment may even be able to straighten your teeth much faster than metal braces! However, as it is with any orthodontic treatment, the length of time treatment will vary from person to person. Here's what you need to know about the timeline of Invisalign in Frederick.
How Does Invisalign Work?
Invisalign uses a unique straightening process to correct orthodontic issues. Instead of metal wires and brackets, this option uses a series of custom-made clear aligners. With precise amounts of pressure in certain areas of your mouth, each set gradually shifts your teeth into their ideal positions. With every set of aligners you complete, you take another step closer to a beautiful smile! On average, Invisalign treatments take about 12 months. However, some patients will need 18 months, while other patents may need less than 10 months. Overall, Invisalign can typically straighten teeth much faster than traditional braces, which can take 24 months or more.
What Factors Influence the Invisalign Timeline?
Your Frederick cosmetic dentist will be able to give you a personalized estimate for the length of your treatment during your consultation. Your timeline will be influenced by several factors, including:
Amount of movement needed: Simply put, the more your teeth need to be repositioned, the longer your treatment will take.
Which teeth need moving: Moving a small front tooth with a single root takes less time than shifting a large molar with multiple roots.
Presence of bite issues: Invisalign can address bite issues like overbite, underbite, and crossbite. However, this usually requires moving all the teeth, which increases the treatment timeline.
The age of the patient: The jawbone literally changes shape as teeth are moved into their new positions. Generally, this means that treatment takes less time for teenagers whose jawbones haven't fully developed than adults with stronger jawbones.
Are There Ways to Speed Up Your Treatment?
You can make sure your Invisalign treatment goes as quickly and smoothly as possible by:
Following your dentist's directions: Only wear your aligners according to your timeline. If you switch to a new set too early, you could damage your teeth or jaw.
Always taking your aligners out when eating: Your aligners can become bent or warped if they're exposed to foods or drinks, which could end up shifting your teeth into the wrong positions.
Taking good care of your aligners: While a cracked or broken aligner can be replaced if needed, this could potentially add more time to your treatment.
Remembering to wear your aligners: If you don't wear your aligners for at least 10-22 hours every day, your teeth may drift out of position and increase the length of your treatment.
Visiting your dentist for checkups: You should be visiting your dentist every six weeks or so to ensure your treatment is staying on track.
It's never been easier or faster to correct crooked teeth and achieve a happy, healthy, and beautiful smile! Call your Frederick cosmetic dentist today to see if Invisalign is right for you!
About the Practice
The talented team of My Frederick Dentist is proud to provide convenient, reliable, and high-quality dental care for the smiles of Frederick and the surrounding communities. With state-of-the-art technology, they offer the latest, most effective dental treatments like Invisalign to ensure their patients get the results they deserve. To learn more about how long Invisalign treatment takes, they can be contacted via their website or at (301) 698-9552.